A little bit about Josh
Introducing pre-covid 5-year nationally touring musician (Taylor Henderson, Nathaniel, Harrison Craig), music director, keys, guitar player and vocalist Josh Needham. Between tours and releases, Josh (with then duo partner and wife) was voted to represent Australia in Beijing '14 at the Annual National Spring Gala. The joint Triple J/ABC/BBC venture saw Josh perform live for over 750 million people across all of Asia under their act name Syre & Fresko.
Playing solo, Josh's confident (and often cheeky) personality (having worked as an MC for weddings, brand openings and promotional events,) combined with over 20 years of performance experience creates a tailored experience for any scenario eg. for more classy corporate events and/or for audiences wanting to sing, dance and make memories of an unforgettable night. Playing guitar or keys (and often a combination of both), Josh is a consummate professional, delivering a triage of quality of presentation, personality and performance.
'What a wild night! Josh had most of the bar singing and dancing right through until the end of the night... professional, personable - everything you'd expect and more from a musician!' - Manu - Waxy's Irish Pub
When not building shows/performing for corporate events and weddings, Josh also works in (and founded) a successful non-profit Youth Music & Mental Health Program called Sing It Out Australia featuring an impressive list of other industry artists (available for corporate events as both performers and speakers) as well as industry music online education platform Talent College, utilising Josh's long history in presenting, professional development and mentorship for aspiring artists across Australia.
Testimonials
Hi Nick,

Just wanted to write and say a huge thank you to Naomi and Josh - they were absolutely amazing. Both have beautiful voices, and are lovely, kind people. I honestly cant say enough good things about them. It really did make the whole wedding extra special as they created such a great ambiance. Everyone loved them and we want to have another party just so we can invite them back again! If you can please pass on our thanks to them both that would be greatly appreciated.

Thank you again so much! Hope all is going well for you.
Sarah and Andrew xx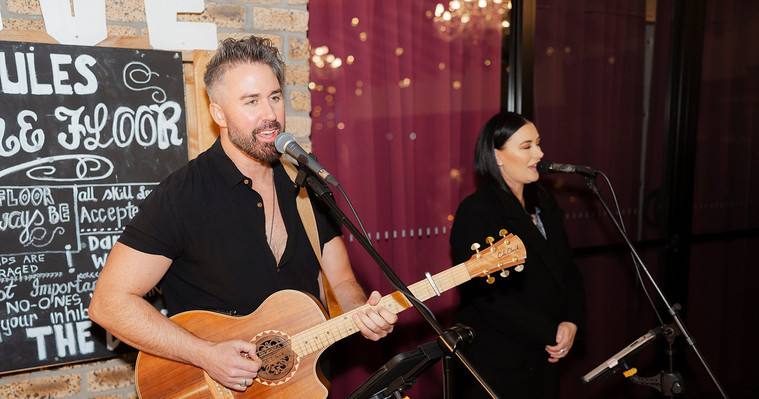 Hi Nick,
Just wanted to pop through a huge THANK YOU to Josh and Naomi for being so amazing at our wedding earlier this month!
We had an absolutely incredible day and for me one of the highlights was being on the dancefloor for hours and it was definitely a vibe and we know that's hugely because Josh was our DJ!
Everyone we have spoken to since the wedding has raved about how fun the dancefloor was, how great the song choices were and how great Josh was a reading the room and keeping the party going! He and Naomi are phenomenal and we are so grateful they were a part of our day!
Plus, they're so wonderful! Shane and I kept trying to find a moment to go and say thank you on the day but, as you know, it was a super busy day and every time we thought we had a second, we didn't haha. But before I knew it Naomi had come and found me and gave me the biggest hug! and I eventually got to chat to Josh after the wedding finished and give him a hug too. They are truly so beautiful!

Katie & Shane (August 2023)